Every four months we host what we call our "Future Thinking Series" to focus on topics & themes that are affecting business and the global economies into the future.
This knowledge exchange series is an open-access platform to share valuable insights with professionals, businesses and organisatios to inform on future trends and new modes of thinking. We share case studies, advice and impact from our active researchers, practical insights from our academic expets and present expert speakers from industry to showcase innovative ideas focused around particular themes.
Part 3: Digitalisation
Our Innovation Series will seek to support and guide managers and business professionals to adapt in a fast-changing and interconnected new world. We will maximise the connections between excellent research, learning and teaching across disciplines to equip organisations with the right tools to become more productive and innovative.
Our themes will focus on several different areas of Innovation as recognized by the World Economic Forum.
Across the next two months, we will be facilitating interactive insights through expert talks and webinars. Facilitating workshops on innovation and strategy. Sharing research highlights to showcase new practical applications for the future. All of our events and services are open access to businesses and external organisations.
Future of Internet
The world is constantly advancing in technology, but what does the future hold? Technology will develop to enhance connectivity between media and our senses, engaging our senses more fully with tinier and more powerful speakers deep inside human ears; chips might be installed into our bodies to receive and transmit data and various communications; 3-D innovations will enable our bodies to feel sensations and to taste edible products we see on our portable screens.
What to look out for:
An interview with Rafael Cohen-Almagor
Links to research
The Model to Follow
Digitalisation has already been reshaping industries, business models, supply chains when the pandemic hit-however the need for business to adapt to changes is ever more important. Yet, the results have so far been mixed, and many businesses have fallen short of their digital transformation goals. Those businesses slow to change – particularly small firms -have become especially vulnerable to disruption by digital natives.
What to look out for:
A Webinar with Simon Hudson and Simon Doyon the Microsoft Maturity Model
Insight to Digital Transformation
Access to SME Advice
Digitalising the Supply Chain
Traditional companies and Industries are forever changing. The Fourth Industrial Revolution has reshaped entire industries, accelerated the need for greater agility, adaptability, and transformation. This has opened the discussion into digitalising the supply chain and what that means for industries.
What to look out for:
Interview on Digitalising the Supply chain in the Ready to Wear Garment Industry.
Interview with experts
Access to SME Advice
Resilience through Technology
As businesses navigate competitive markets, technology plays an important role in staying ahead of the curve. During this week, we will explore how technology and digitalisation can create a more resilient future for businesses.
What to look out for:
Webinar with our experts
Research Pieces and Insights
Cyber Security
The digital world connects everything and everyone to apps, data, purchases, services, and communication, does Digitalisation pose any risks to Cyber Security? From online banking and shopping, to email and social media, it's more important than ever to take steps that can prevent cyber criminals getting hold of our accounts, data, and devices.
What to look out for:
Interview with Leon McQuade
Think Cloud Toolkit & Podcast
Interview with our experts
Upskilling
The education sector often faces barriers which prevent teachers, lecturers and education leaders benefiting from technology. The use of information and communication technologies in education can play a crucial role in providing new and innovative forms of support to teachers, students, and the learning process more broadly. As technology is evolving quickly, we ask our expert webinar panel to predict future skills and roles.
What to look out for:
Interview with academic expert
Webinar on Future Digital Skills
Toolkits
Check out our Booklet
We have further information on part 3 of our series here in our booklet. You can find out more information about the series and each of the themes, including details on some of our key activities; – Webinars – Interviews – Research Insights
DOWNLOAD HERE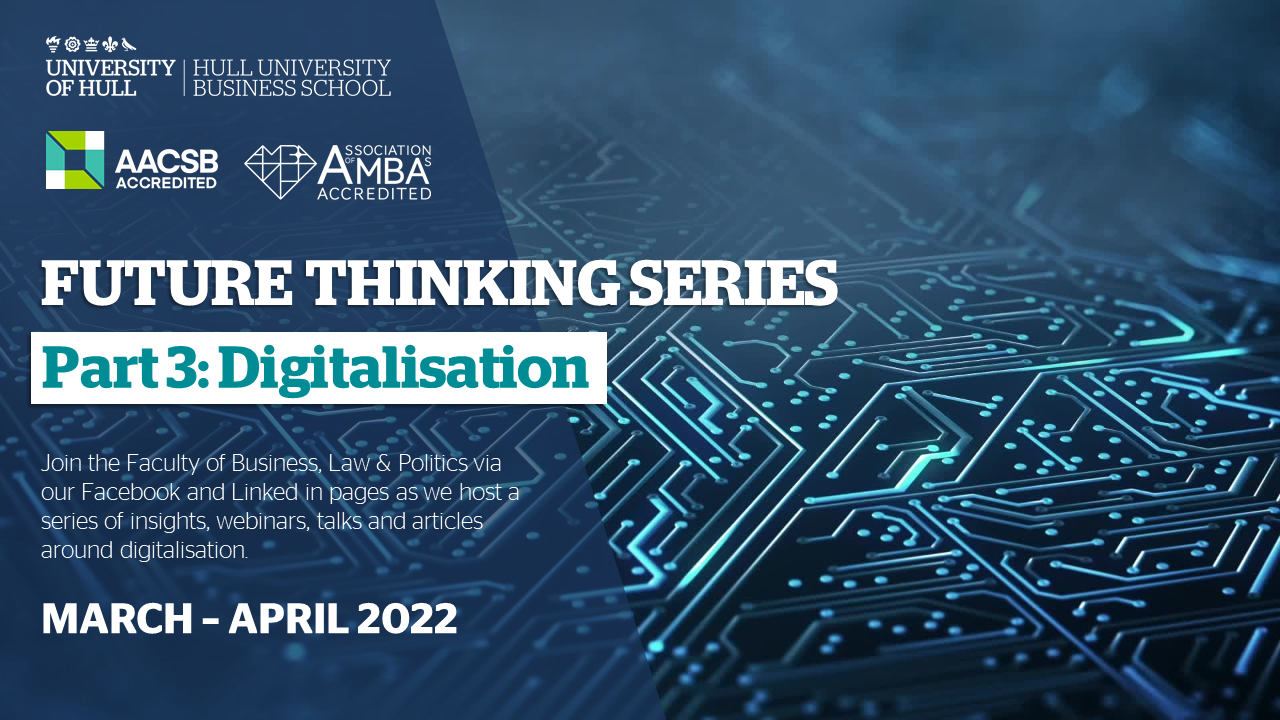 Contact Us
If you would like further information or would lie to find out how you can work with Hull University Business School then please contact us using the details below. We offer a range of bespoke workshops and programmes around leadership, strategy and innovation that aim to support growth in businesses of any sizes. Get in touch to find out more. Email – fblp-business@hull.ac.uk